LEGHE MINORI, GIOVANI E DONNE, LE NUOVE FRONTIERE DEL MATCH FIXING ANALIZZATE A BARCELLONA
Leghe minori, campionati giovanili e femminili, le frontiere del match-fixing si spostano dove i controlli, la formazione degli atleti e l'attenzione mediatica sono inferiori. Su questo nuovo aspetto della manipolazione sportiva si sono confrontati oggi a Barcellona Alfredo Lorenzo, responsabile integrity della LFP, la Liga de futbol, il suo collega incaricato del calcio femminile Pedro Malabia, Andriy Madzyanovskiy, responsabile integrity della FFU, la Lega Ucraina, Piero Calabrò, prossimo presidente dell'equipe Grandi Rischi che lancerà la FGCI, Giuseppe Coscioni del Tribunale di Parma e Francesco Baranca, Segretario Generale di Federbet.
"Si sospetta – ha affermato iniziando i lavori Baranca – che gli ultimi Campionati mondiali femminili in Canada, siano stati assegnati al paese nordamericano grazie ai fondi raccolti in Canada tramite il match fixing: il Canada, come la Svezia, è un paese famoso per la trasparenza, ma anche lì la frode sportiva è di casa. Abbiamo qui con noi il responsabile integrity dell'Ucraina, un paese che sta affrontando con decisione un fenomeno, quello della manipolazione sportiva, che è entrato in Ucraina tramite il calcio giovanile".
"Per ogni tentativo di frode in Prima Divisione ci sono decine e decine di tentativi nelle categorie inferiori", ha osservato Alfredo Lorenzo. E tra i campionati a rischio, spiccano quelli delle leghe femminili: "si tratta di competizioni molto tentatrici per chi vuole manipolare – ha spiegato Malabia – per la sensazione di impunità, perché spesso manca la formazione e sensibilizzazione delle atlete e perché si tratta di partite che solo adesso iniziano ad arrivare sulle televisioni".
Formazione, monitoraggio dei giocatori, cooperazione tra club, leghe e federazioni, inasprimento delle pene e controllo dei flussi anomali di scommesse, sono queste le ricette emerse dalla conferenza per contrastare il dilagare del match-fixing. "Accordi con organizzazioni come Federbet sono fondamentali per i club – ha sottolineato Calabrò – le segnalazioni che indicano in anticipo o in tempo reale i tentativi di manipolazione, come nel caso di Catania-Trapani, sono utilissimi come sistema di allerta e di prevenzione".
President of the Football Federation of Ukraine Andriy Pavelko told about the adopted Law on Prevention of Corruption
ESCLUSIVA TLP - Federbet, Baranca: "Giustizia sportiva da riformare. Sistema incancrenito, pentitismo unica soluzione. E su Akragas-Vigor..."
ATALANTA INCONTRA FEDERBET A ZINGONIA
L'INCONTRO NELLA PRESS ROOM DEL CENTRO BORTOLOTTI
Nella sala conferenze del centro Bortolotti di Zingonia, il direttore generale Umberto Marino ed il responsabile dell'area tecnica Giovanni Sartori hanno accolto l'avvocato Francesco Baranca, direttore generale di FederBet AISBL, federazione europea specializzata nel controllo del gioco d'azzardo legato agli eventi sportivi, che ha incontrato la prima squadra e la formazione Primavera dell'Atalanta.
Si è trattato del primo di una serie di appuntamenti periodici durante i quali l'avvocato Baranca illustrerà ai giocatori i rischi legati al betting. Federbet, in linea con il codice etico adottato dalla Società, svolge per conto di Atalanta un attento monitoraggio del mercato delle quote delle scommesse che riguardano le partite dei nerazzurri al fine di segnalare con tempestività eventuali anomalie.
All-Ukrainian Union for Development of Bookmaking and FederBet signed the memorandum on counteraction to fixed matches
The document was signed on September 2, 2015. The parties of memorandum will exchange available information on suspicious betting on sports matches as well as on developed methods, experience and means of identifying and counteracting fixed matches.

Signature of memorandum will also allow the AUBD to participate in conferences and other events organized by FederBet. This would enhance the AUBD's capacity to influence development of legislative and other measures directed at effective prevention counteraction to fixed matches in Ukraine and abroad.
AUBD is interested that betting in Ukraine would not be linked to organization and conduct of fixed matches, and that participants of such activities to be pursued by law.The memorandum is particularly relevant, since legalization of gambling, including betting, is being actively discussed in Ukraine.
«Today we have signed the memorandum on cooperation between FederBet and AUBD. The main clauses of this document provide for new possibilities of lobbying a new bookmaker law. We foresee a lot of positive features of such cooperation. While there is a problem with fixed matches, the agreements goal is to combat corruption in sports. It's very important to share all available information and cooperate with European and world organizations. We will be organizing events and share the information related to fixed matches»,-said Dr Francesco Baranca, FederBet Secretary General.
Bookmakers worldwide are interested in detecting fixed matches and in prosecuting their participants and initiators by law enforcement authorities. Such illegal activity inflicts significant damages to official betting companies as winnings to fraudsters and as image losses through forced involvement in conflicts.
"We have repeatedly said that betting business is closely related to sports. Bookmakers are interested in top-level high-quality sport events, they had always been strongly supporting sports. This is a worldwide experience. Most of betting business representatives are fans of a particular sport. And the product must be honest, bright and professional in order fans, athletes and bookmakers to receive pleasure from it. Our cooperation with FederBet is a move we make to change for the better situation with fixed matches. We are confident that this cooperation will bear results"-, said Ms Irina Sergienko, Director General of AUBD.
Reference
NGO "AUBD" was established to promote development of the betting business in Ukraine, its transformation into a significant sector of the national economy, creating a favorable economic climate for the development of bookmaking business in Ukraine, promotion of betting activities, ensuring information transparency and legalization of betting activities; study and use of international practices and experience on introduction and legalization of betting activity. www.vsrb.org
FederBet is a Belgian international non-profit association representing betting providers and protecting interests of consumers of their services. FederBet is focused on preventing and counteracting illegal activities related to fixed results of sport events, especially of matches with predetermined results (fixed matches). www.federbet.com
Ukraine moves towards law to criminalise match-fixing
Two Ukrainian lawmakers, Andriy Kozhemiakin and Andriy Pavelko (pictured), the latter president of the country's football federation, have registered a bill in parliament that would criminalise corruption and eradicate match-fixing.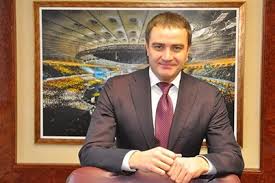 INTEGRITY IN SPORT UPDATE: UKRAINE DRAFTS BILL TO CRIMINALISE CORRUPTION IN SPORTS
Football players in Ukraine are introduced to corrupt practices in the lower leagues, from where the practices spread, Belgium-based anti-match-fixing organization Federbet said in its report for 2015.
The draft law "On prevention of the results of the official sports events of corruption offenses" - Ukraine
(The full article is available at this link)
Today the "House of Football" was crowded: FFU President Andrew Pavelko, current and former presidents of the PFL Sergei Makarov and Miletus Balchos, Andrew Palau, Eugene Wild, Vadim Misura, head of the committee of referees FFU Luciano Lucci and the reason to get these people into one room is the discussion about the acute problem of the match-fixing in our football environment.
The draft law "On prevention of the results of the official sports events of corruption offenses" (registration number №2243a of 2 June 2015), presented by Andrei Pavelko should be a key tool in the fight against this negative phenomena. At the same time, this is only the tip of the iceberg because the worst thing is that this negative phenomenon swept into the youth football.
"Tournaments U-19 have plenty of matches under suspicion – laments Pavelko – Tomorrow, these players will migrate to the clubs in the first division and the Premier League and they will share the "experience". Someone, perhaps, till our national team."
A very complete presentation was shown by a special guest Francesco Baranca, Secretary General of FederBet, Belgian organization successfully revealing match-fixing around the world. (Later Francesco admits that his work involves risk – a year ago when he was investigating in Bulgaria about match-fixing, right in the heart of Sofia, his Bulgarian friend and colleague was deadly shot …).
"Recently, we have provided an annual report on match fixing in Europe and to the World, – said Baranca . – It is a virus that spreads out at high speed! Normally the reaction to our report is like – no, it's impossbile, we have an honest championship! – Recently, a similar reaction happened in Italy, but two weeks ago, about 60 people were arrested. In other countries, children dressed "Real Madrid" and "Barcelona" t-shirts and they played like it was an official match."
"Particularly match-fixing thrive in Bulgaria, Georgia, Lithuania, Latvia, Albania … But it is not always linked to the quality of life. Prosperous Canada – a third country in the world with the lowest levels of corruption – leads in match-fixing!"
"The market rates – it's a kind of exchange, – says Baranca – For each opportunity there's a price. When the 'virus' begins, the prices go crazy. Watching the oods you can get the full picture. In Ukraine, the virus is fully installed in U-19 and U-21 tournaments; recently it made it to the Premier League too.
"In the 90 percent of cases, the clubs are not familiar with the fact that the players are involved in match-fixing. The draft law prepared by Pavelko is an important step aimed to legalize the betting market."
L'inchiesta Avvenire: "Lo scandalo della scommessopoli planetaria spiegato da Francesco Baranca"
Messaggero Veneto: «Puntate sospette su Pro Patria-Pavia»
La Repubblica: L'incubo scommesse anche sul volley "Dubbi su Castellana"
La Provincia pavese: Federbet: «Combine su Pro Patria-Pavia» ma Macalli smentisce
La Provincia: Scommesse Altrisospetti sulcampionato
LA GAZZETTA DELLO SPORT: Inchiesta scommesse: Martina, Barletta e Materdomini serene
IlPicolo: Federbet: 'Scommesse in Lega Pro'
Il Gazettino: FederBet denuncia: 6 partite truccate in C
Un uragano su Castellana «Estranei alla combine»
Udinese Calcio TV: Baranca: "Udinese e Federbet insieme contro il match fixing"
Euronews: FIFA World Cup 2014, alerta contra los partidos de fútbol amañados